Outlaw Studio Presents
---
Ongoing Workshops
Open Studio for guided metal working – Friday Afternoons 2 – 5pm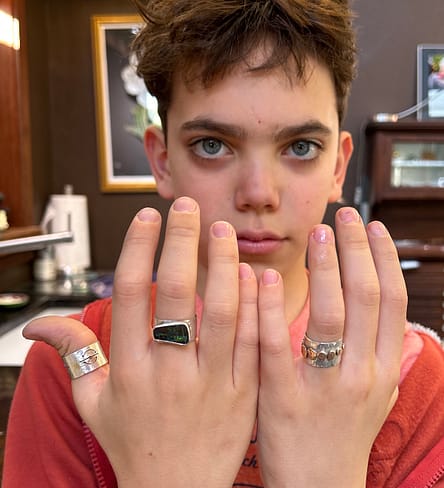 Announcing Open Studio for guided metal working
Friday Afternoons 2 – 5pm $45 a session.
You must sign up by the day before – Thursday.
If interested email Nancy at
Looking forward to seeing you in the studio!
– Nancy
Upcoming Workshops
MARCH 24th & 25th, 10:00 – 4:30 lunch provided 12:30 – 1:30 $270 Kit Fee $50
Sand casting offers a unique opportunity for jewelry makers- from experienced professionals to enthusiastic novices- to unlock new dimensions of creativity and artistry. By learning how to create a Delft sand mould, participants will cast pieces of jewelry in sterling silver. With this ancient process, it is easy to add a stunning aesthetic edge that you won't find with other methods. During this two day workshop, you will receive in depth instruction on sand casting and have plenty of time to experiment, creating your very own finished piece to take home. Kit includes: Sterling Silver (enough for 2 rings), casting materials
APRIL 14th & 15th 10:00 – 4:30 lunch provided 12:30 – 1:30 $270.
Fabricate – to construct or build with parts. During this two-day workshop, students will learn to construct a setting for their own found or acquired object. Whether it be a piece of shell, pebble or gem, together we will discuss your ideas and figure out how to realize your design in sterling silver. The focus of this workshop will be to enhance your fabrication skills and get comfortable with soldering.
MAY 19th – 21st, Friday – Saturday 10:00 – 4:30, lunch provided 12:30 – 1:30
This three-day workshop will be a brainstorming, problem solving, and skill building session tailored to each student's current work.
Bring your half finished pieces, tossed away projects that are still lurking about, and an open mind. Sandra will be assisting each
individual student to push through design and technical issues in their work. She will also be introducing a few hollow forming techniques
and the demonstrating the delights of stick soldering. This workshop will be great for a student wanting to hone their hollow forming and fabricating techniques.
Sandra is extremely well versed in cold & hot connections, designing mechanisms and resolving findings issues, as she has been fabricating
her line of architectural inspired jewelry with simple but sophisticated connections and custom findings.
Workshop Fee $375 – To register, email Nancy at outlawstudio@mcn.org
Pervious Workshops